"Mother's Street"
A mother cares for her home, even down to the smallest details for her family. When it comes down to it, the source of this maternal instinct can be attributed to none other than God the Mother. So, with the heart of Heavenly Mother, members from the Church of God carried out the "Mother's Street" cleanup movement. Through this campaign, volunteers dedicated themselves to tidying up their local streets and parks.
The World Mission Society Church of God held the cleanup campaign on a global scale, promoting health and happiness among its neighbors around the world. "Mother's Street" ran for two weeks, from November 19 to December 3, in more than 6,000 regions and 175 countries. Volunteers went out with the goal of cleaning up a distance equivalent to the circumference of the earth—nearly 25,000 miles. Though it may seem like a grandiose aspiration, the goal was ultimately met through the members' unwavering unity.
Church of God volunteers from several U.S. states and various countries participated in the two-week-long cleanup effort. Meanwhile, members of the Church of God in Middletown, CT took to their own community to contribute to the cause.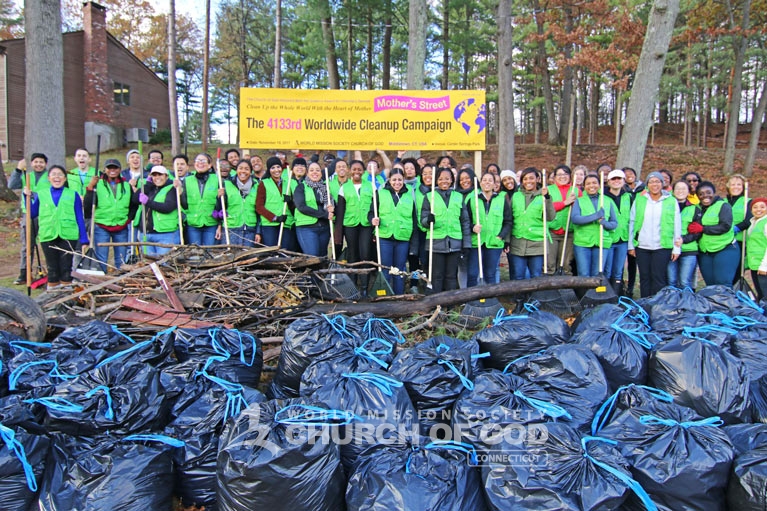 The volunteers united in Center Springs Park from the early morning to clean up accumulated trash. Local residents frequently visit the park. Nevertheless, litter had piled up over the summertime within the ponds, fields and local trails. The Town of Manchester's Parks and Recreation Department provided the group with gloves, trash bags and water.
A local Manchester couple, who are part of the Friends of Center Springs Park committee, stopped by the park as they usually do. However, they were greatly moved to see the park being spruced up by volunteers.
"The number of smiles that I've seen on your faces is just so wonderful," said the husband, Bill McCarthy. "We're here every day and see how much this park is used, and we just can't tell you how much we appreciate everything."
In three hours, the volunteers had collected 88 bags of trash. Furthermore, they piled up a large heap of debris, including tires and twisted metal. In total, about 5,400 pounds (2.7 tons) of rubbish were removed from the park by the end of the day.
Volunteerism is a pillar in the activities of the Church of God. Volunteers carry out work in five main areas—environmental protection, disaster relief, blood donations, social welfare, and smile campaigns. To date, the Church of God has conducted more than 4,600 environmental protection activities around the world. Contact us to find out how you can participate in one of the Church of God's future volunteer activities.
Check out "Mother's Street" in the news!